---
Onward to Modest Reproducibility
(24 February, 2005)
I glazed and fired two bowls a couple days ago, to cone 10. both of them showed a certain amount of blond or gold just below the rim, and it's clear that the "gold ring" is not just the gold at the end of the rainbow. Both are mid-blue, with less color variation than the bowl just above, and little or no purple, but they are quite pleasant nonetheless. I did a bowl and a vase today, taking them to cone 9 in moderate reduction. Here's a quick view of the bowl: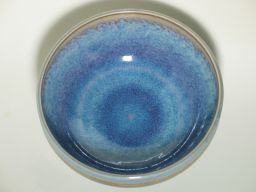 The lightly glazed area below the rim on the interior is not golden, but it's reasonably pleasant. The interior has somewhat richer color than either of the two bowls I fired the other day. I'm clearly learning how to exert at least modest control over this, which is a happy thing. Note that this photo was taken in mediocre roomlight, and that proper lighting might reveal a bit more color.

---
This work is supported by
The Joss Research Institute
19 Main St.
Laurel MD 20707-4303 USA
---
Contact Information:
email: a@b.com, where a is replaced by my first name (just jon, only 3 letters, no "h", and b is replaced by joss.
My phone number is +1 240 604 4495.
Last modified: Tue May 9 11:35:37 EDT 2017