---
Success Again, at a Price
(2003 August 12)
I fired the kiln again today. It went to at least cone 10, but it took a lot longer than the previous firing. There were several reasons, possibly the biggest of which is that I didn't go back during the night last time and tarp the kiln, as a result of which it got rained on rather heavily. A lot of heat from this firing went into the last phase of drying it out. (I did two previous drying runs, using a propane torch, but they only got things started.)
Another reason why it took longer is that I was running it in fairly heavy reduction through much more of the firing than I needed to. In fact, I probably could have used somewhat lighter reduction in general, and fired in neutral toward the end. I think I'm either going to have to use multiple cone packs, so I can tell when to stop reducing, or put a pyrometer in. (I have some thermocouples, good ones that Howard Davidson sent me, but they are quite small, and I need to make protection tubes for them. I also need to get the correct extension wire.)
Here are some photos. First, the kiln on its plinth; then the burner in action, with a close-up. You can see that the chimney has some issues. (Please excuse the mess. I have been putting my energy into getting this thing set up and fussing with it to make it run, and I haven't had much time for prettifying it.)
---
Here's what the top of the chimney looks like when the kiln is reducing moderately strongly: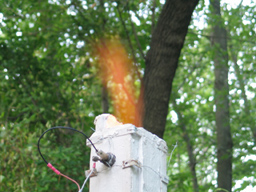 When I get inside, I'll put up some photos of the results of the firing, assuming that they're worth it.

---
Return to Our Previous Success Rate —
(2003 August 21)
I got a couple nice glaze tests out of that last firing, and a teacup that carbon-trapped... but not the glaze: the body turned gray. It's an odd and somewhat interesting effect: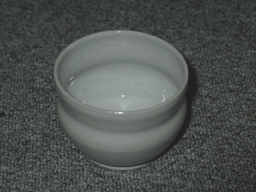 Not, however, what I wanted: that was supposed to be a nice translucent porcelain. I conclude that one reason why the firing took so long is that I was reducing very heavily, using a lot of gas and not getting much heat. At least I got the other effect I was looking for — here is the same cup under longwave UV: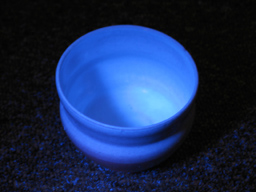 I replaced the Tweco tip with a new one of slightly larger diameter than my first one (though somewhat smaller than my drilled-out special) and fired again today, taking a bit more care not to over-reduce. I was not entirely successful — the kiln was in heavy reduction for over an hour — but even so it went up to about cone 10.5 in less than three hours, and I got at least one good glaze test out of it. The copper red is gray, however, and I have to think about what might have caused that. (Over-reduction is the most obvious candidate.)
I think I'm going to shorten the chimney and seal it better, in the hope that I can get cleaner readings from the oxygen sensor. It is clear that the readings I've been getting lately were 'way far off from the reality of what was going on inside the kiln.
In any case, it is now clear that I've got a working gas test kiln, and that I can fire it in reduction to the cone 10-11 range; that essentially marks the end of this conversion effort. Now I get to learn how to run it and optimize it; I'll probably report those efforts elsewhere.

---
Learning to Fire the Kiln
(2003 August 24)
I'm taking steps to add a thermocouple to the kiln, partly so I can use it in oxidation for crystal glazes and partly so I can get a better sense of how fast it heats up and cools down. In the meanwhile I've shortened the chimney and tightened it up a bit. It is now drying.
I've also decided that it's probably a good idea to avoid firing greenware unless I do a really long preheat, using a propane torch as a small burner — the kiln heats up so rapidly with the big burner that even very dry and fairly thin greenware has a tendency to explode in it. (Voice of sad experience.)
(Continuing, 2003 November 4)
I built a little amplifier for the thermocouple, so I can read it with an ordinary digital meter (a Type S thermocouple puts out only a few millivolts at 1250° celsius, and much less near room temp, so I use an instrumentation amplifier chip to multiply the voltage by 100), and I can now track the temperature during the firing. I find that it goes up extremely steeply during the first 5 or 10 minutes, no surprise, and that by the time the kiln gets to about cone 9 it is going up by perhaps 100 degrees per hour. I've taken to writing down the temperature every 5 minutes during firings, and when the cone pack fell over, a few weeks ago, with the kiln between 1160 and 1200 celsius, I was able to finish the firing by doing a time/temperature comparison with previous firings. This is not "the way it sposeta be", but it was certainly preferable to terminating the firing early.
Pursuant to Roger Graham's excellent article in Ceramics Monthly (which is at this URL if it's still online), I now have two automotive oxygen sensors on the chimney; but the readings I get from them are rather strange. It takes them quite a while to come up to operating temperature, for one thing; and if I fire entirely in oxidation, I never see more than about 22 millivolts output. (I would expect to see 650-750 mV when the kiln is in light to moderate reduction, perhaps 400-500 mV in a reasonably neutral atmosphere, less than 250 in light oxidation, and less than 100 in firm oxidation. I do sometimes see numbers of that sort, but not often. Having watched this a few times now, I think that the sensor has to sit in a firmly reducing atmosphere for at least a short time before it responds that way, but I need to check that a bit more carefully.)
In the process of firing the kiln perhaps ten or twelve times I have learned a certain amount of control, but the path was somewhat fraught. If I keep it in light reduction, it reaches cone 9 in roughly 90 minutes from a standing start. If I keep it oxidizing, I get 6 or 8 firings from a 40-lb charge of propane; that drops to perhaps 4 firings if I'm reducing, for obvious reasons. Unfortunately, because of the trouble I'm having with the oxy sensors and the fact that I often fire during the day, which means that I can't see any indications of flame at the top of the chimney, I've had to learn to adjust the redox level by the sound. Sometimes I forget that even a hint of throaty rumble in the (generally smooth) rushing noise is an indication that the flame is reducing. I've done several firings of crystal glazes, one of which went into reduction and produced expectably muddled (though rather pretty) results —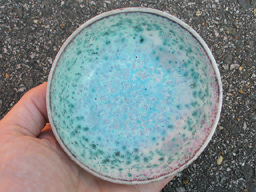 At night it's somewhat easier, though during the early stages of a firing the sound is still the more reliable indication. I'm just lucky that the difference between oxidizing and reducing is actually audible.
While the burner is fairly well behaved, and the Type S thermocouple is a real blessing, results like the bowl in that photo tell me that there isn't quite as much primary air as I'd like, so I'm probably going to add a second blower.

---
Second Blower
(2003 November 9)
I did, indeed, add another little centrifugal blower, and once I got the burner adjusted, it ran fairly well. I fired the kiln with it last night, and although I did manage to get into reduction for a while (it takes a bit of experience to get used to changes in the way these things operate), I was very happy with the performance: I ran the burner for about 80 minutes, and it took the kiln nearly to cone 10, despite the fact that everything was quite wet. (We've been having very wet weather here, and the tarp I put over the kiln wasn't enough to keep it dry.) Here's a photo of the new configuration: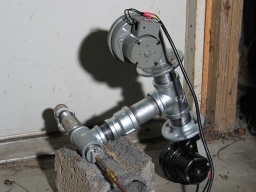 (20 February, 2005)
I also shortened the chimney; it is only an inch or so taller than the kiln. A forced-air burner system doesn't really require a chimney at all, and I have one mostly to keep the exhaust away from the burner and the gas line, and to provide a place to put the oxygen sensor.
(22 August, 2005)
Noticing that operation was slightly uneven with the two small blowers, and wanting just a bit more air, I have replaced that assembly with a single, slightly larger blower. When I get a chance, I will photograph the new arrangement, which works quite well.
(02 December, 2007)
Having read parts of Michael Porter's book, I conclude that I was very lucky to get a working burner that actually seems to match my kiln fairly well; there are many parameters, and lots of ways to make a lousy design. As I say, though, I seem to have lucked out; it now takes 90 minutes or so for the kiln to go from about 150° C (I preheat to drive off any water that remains in the ware after I glaze it) to cone 10.
The kiln is in serious need of a new chimney and a new fiber blanket coat inside, however, and is probably nearing the end of its service life. We'll see how long it lasts.
For forges, at least, Ron Reil is currently convinced that a blown burner confers no advantage at all over one that is fed by venturi; I don't know whether that is also true of kilns, which present somewhat different parameters.

---
Time for a Rebuild.
(2008 Feb. 2)
I have just fired the kiln for the final time in its current incarnation. Inside it were the pieces of a new chimney, coated with ITC-100HT. I took it to 1314° C in 105 minutes, thinking all the while that I would run out of gas because I used the dregs of a tank. I was wrong; there was still a wee bit left when I turned off the flow and pulled the burner away from the inlet port.
I want to put a new fiber liner inside the kiln, coated with ITC-100HT; I want to enlarge the inlet port slightly, moving its center away from the outlet port in the process; I want to move the center of the outlet port slightly farther from the inlet port if I can; I want to put liners in both ports, to protect the kiln a bit; and I want to see whether I can create a fiber seal around the rim, so I don't have to keep worrying about leaks every time I fire. (I should be able to get woven fiber rope, specifically intended for this purpose.)
I will describe the rebuild and its results on the next page in this set.

---
CAUTION
If you build one of these, please remember that the flame emits copious quantities of UV, which isn't good for your corneas (or skin), and a hot kiln emits copious quantities of IR, which can give you cataracts. Wear welding goggles or equivalent protective devices when you look in there! Also, be extremely careful about gas leaks. Because I don't have automatic shutoff equipment on this burner, I stay with the kiln throughout the firing. (Yeah, sometimes I leave long enough to take a leak, but that's about the limit.)

---
In closing, I would like to state my deep appreciation for the work that people like Ron Reil, Michael Porter, and Rex Price have done (a good deal of which Ron Reil has published on the Web). I would have been completely at sea without their excellent information.

---
On to the next stages of this work, in which I:
revamp this kiln, build a larger burner, and (I hope) eventually convert a nice old Dyna-Kiln to use the new burner.

---
This work is supported by

the Joss Research Institute
19 Main St.
Laurel MD 20707-4303 USA
---
Contact Information:
Email: a@b.com, where you can replace a with my first name (only 3 letters, just jon, no "h") and b with joss.
Phone: +1 240 604 4495.
Last modified: Sun Feb 17 00:36:44 EST 2013