---
Sidebar:
A Word About Power Supplies
(11 June, 2006)
Pulse-discharge devices of this sort produce lots of electrical noise, some of which travels back up the wires to the supply. You need to do some serious bypassing, and put some good chokes in the line, not only on the hot side but also on the ground side.
There is also the issue of rectifiers. Let me run some numbers past you, to make this clear.
My transformer is rated 10 mA at 37.5 kV. I am using half-wave rectification, so I can expect to get a maximum of 5 mA out. HV rectifiers are sufficiently expensive that I would be willing to live with this in any case; but as it happens, one end of the secondary is grounded, so I don't have much choice.
So: how much voltage-handling capability is enough?
The RMS (average) output of the supply at full input voltage is 37.5 kV. This means that the peak voltage is 37.5 times the square root of 2 (which is about 1.414). Let's round the result off to 52.5 kV.
Every cycle, however, involves a positive half-cycle and a negative half-cycle, so we must double the Peak Inverse Voltage rating of the rectifier. This brings us to 105 kV.
That, however, provides absolutely no safety factor. One little spike at the wrong time, and you risk destroying your rectifiers. Let's double it again, to provide nominal safety. Now we are at 210 kV. That seems fairly reasonable, but it actually isn't really very much. If you are using it to operate a pulsed laser, as I am, you need to put some sort of filter into the output lead, to block the spikes that the laser generates when you fire it.
(Some time later)
I found some 80-kV rectifiers on eBay, and bought three of them, which gives me 240 kV peak inverse rating. With chokes and bypass caps in the output line, this appears to be good enough. I have run the power supply all the way up to its maximum output, roughly 38 kV, and it has behaved perfectly, even powering an 89-nf energy-storage cap connected to a nitrogen laser, which is a strong source of EMP — here's what it did to our Tektronix 7104 oscilloscope, which was perhaps 2 meters away at the time: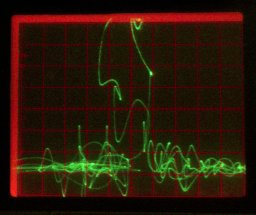 ---
This work is supported by
the Joss Research Institute
19 Main St.
Laurel MD 20707-4303 USA
---
Contact Information:
My email address is a@b.com, where a is my first name (just jon, only 3 letters, no "h"), and b is joss.
My phone number is +1 240 604 4495.
Last modified: Mon Sep 23 14:05:27 EDT 2013