C: Laundry Detergent and Optical Brighteners
(Started on 03 March, 2006)
The optical brighteners used in laundry detergents are very closely related to some laser dyes, and although they are not intended for our use, they work quite well. (I first lased a laundry detergent in 2000 or 2001, with a nitrogen laser as the pump source.) Using detergent can be a bit more tricky than extracting dye from fluorescent markers, but if you succeed, it gets you a really lovely deep-blue laser.
(Note, added on 23 October, 2007: It is not necessary to bother with detergents; see above for information about a concentrated optical brightener that is readily available and performs quite well.)
During a conversation about detergents in mid-2007, in which we were comparing results, Jarrod Kinsey mentioned dry detergent powder, which could, at least in principle, provide a more concentrated dye solution than commercial liquid detergents; but he noted that it doesn't dissolve well, even in water. This suggested to me that I should try extracting the brightener from some dry powder detergent with isopropanol.
The no-dye, no-perfume dry powder version of Arm and Hammer® gave me a very concentrated solution that lased extremely well after I centrifuged it to remove the dust, even in a cuvette with misaligned walls. (If the walls are aligned well, the dye can use them as mirrors, so it is easier to reach threshold in a correctly aligned cuvette.) I have tested 91% isopropanol from the drugstore and also 99+% iso from an electronics supply store, both of which worked beautifully when I used a small homebrew TEA nitrogen laser as a pump. I have not yet tested 70% isopropyl rubbing alcohol, but there is a good chance that it would also work.
Note: I have, so far, done this with three brands of dry detergent. Only Arm and Hammer produced a dye solution that was concentrated enough to lase with a nitrogen-laser as the pump source. Tide® should give you a solution that you can lase with flashlamp pumping, but unless you evaporate some of the solvent to concentrate the dye, it probably won't work with transverse nitrogen-laser pumping.
The following protocol produces enough dye solution to fill a small cuvette once or twice. It should scale up nicely if you have a flashlamp-pumped dye laser, but I have not tested that.
Protocol:
Take a small jar. (I used one about an inch in diameter and 2 inches tall.) Fill the jar about half full of dry Arm and Hammer powder. Add enough isopropanol so that after all of the detergent is wet, there is still a layer of iso on top of the powder, perhaps 1/3 of the powder depth. (You can try various amounts to find out what concentration your setup needs.) Cover the jar and shake it for 5-10 seconds, then let it settle for about half an hour. Pour the liquid off the powder, and centrifuge it to remove any powder that remains suspended. (In order to lase well, the solution needs to be very clear. Filtering can work as an alternative way of removing suspended solids from the dye, and Jarrod Kinsey reports that he has had success that way.) Pour the supernatant into a cuvette, and try pumping it. If it is clear, if your nitrogen laser is working well, and if the concentration of dye is high enough, it should lase nicely. (Photo, below.)
Here is a photo of a jar of detergent and isopropanol that has settled for several hours. At this stage it is probably still too cloudy to lase well, but should be easy to clean up. The iso in this jar was originally several millimeters deeper than you see here, btw; before I took this photo I removed some, centrifuged it, and used it to take the photo below that shows the solution lasing.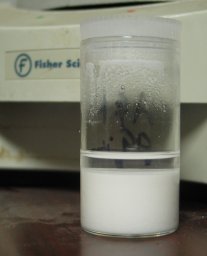 Judging from this photo, you might well be able to settle the stuff for several hours, decant it carefully into a cuvette, allow it to settle overnight, and just lase it.
If you want to use a centrifuge and you don't have one, there are ways to make simple ones; see the January, 1998 "Amateur Scientist" column in Scientific American magazine for an example. (All of these columns are available on a CD-ROM now, and can be purchased from several sites on the Web, including The Surplus Shed and American Science and Surplus.)
Here is the extract being pumped by a small TEA nitrogen laser. You are looking from behind the cuvette and off to the side; the bright blue stripe at the right edge of the cuvette is the dye being pumped. (The bright stripe on the left side of the cuvette is a reflection.) The blue spots on the paper to the left of the cuvette are the output or, to be more precise, half of the output: the other half went off to the right, out of the picture. The camera cannot do justice to the color, which is a rich deep indigo...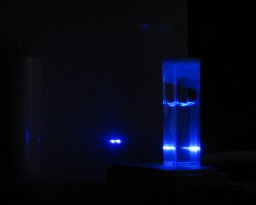 There is an easier method, which is probably not quite as good but can certainly be made to work: acquire some "no-dye, no perfume" laundry detergent, the ordinary thick liquid sort. It's probably best to use one that has as few ingredients as possible, but contains optical brightener[s]. (The best "organic" ones are not brightened, so be sure to check the label.) I have tried this with several detergents, and they all worked; but Jarrod Kinsey reports particularly good results with the 2x concentrated version of Arm and Hammer, which seems to be available in his area but not mine. (OTOH, I seem to be able to get a 3x concentrated version of All, which also works well.) In all cases, be sure that the detergent is not turbid (cloudy), and is not any color that seems to be intentional. A very pale yellow is expectable because of the absorption spectrum of the optical brightener, but blue or purple or green detergent is a lousy choice here, for fairly obvious reasons.
For pumping with a nitrogen laser, you should try the detergent or concentrate right out of the bottle. For flashlamp pumping, however, you'll have to dilute it at least a little, as it will be much too viscous and almost certainly too concentrated. I would try very cautiously adding some distilled water. Your objective here is to add only enough water to allow the solution to flow through your system. (Once you get it to lase you can dilute it more if that seems to be appropriate, but if you dilute it too much at the outset you won't be able to bring it to threshold.)
Because the solution gets warm when you pump it, and the refractive index changes with temperature, you may find that you get only one or two pulses with N2 pumping, and then lasing will quit until you let the solution cool down. Detergent is so viscous that this can sometimes take several minutes. With flashlamp pumping you'll want to flow the dye solution, and you'll probably have to wait a short while (at least a few seconds) between pulses, so that the fresh solution has a chance to cool down the dye cell.
Note, added on 25 July, 2007: Jarrod Kinsey finds that when he pumps liquid detergents with his TEA nitrogen laser, he does not see the "fatigue" effect that I note above; the stuff just lases again and again. I am not yet sure what the difference is, though I was originally pumping with a reduced-pressure nitrogen laser rather than a TEA laser, and that may have had some influence.
Yet another method: I have tried diluting liquid detergent with alcohol, in an effort to reduce the viscosity so I can pulse it more often. This often just causes the detergent to crystallize out, which makes the stuff cloudy. If you are handy, however, you can probably use a combination of 99% isopropyl alcohol and chilling in a refrigerator or freezer to concentrate the dye by separating out the detergent from it. The objective is to add the alcohol, stir thoroughly, chill the solution and allow the detergent to crystallize out as thoroughly as possible, and then filter out the detergent crystals while holding the solution at low temperature. If this works, you may get a solution that flows well, fluoresces brightly, and is not cloudy at room temperature. Good luck — you're probably going to need it.
Note: I have, more recently, found a 3X concentrated version of All® "Free Clear", which seems to react differently — it gets slightly cloudy when I add isopropyl alcohol, but slowly clears again. (This takes several days, so be patient.) Even when significantly diluted it lases nicely.

---
On to a followup about alignment
On to a second followup, about tuning
On to a third followup, specifically about naturally occurring substances that are or may be suitable for use as laser dyes
To the Joss Research Institute Website
To my current research homepage
---
This work was supported by
the Joss Research Institute
---
Contact Information:
My email address is a@b.com, where a is my first name (jon, only 3 letters, no "h"), and b is joss.
My phone number is +1 240 604 4495.
Previously modified: Tue Oct 23 18:04:28 EDT 2018 Last modified: Wed Nov 9 15:28:28 EST 2022